Scholastica Science Club – 2022/23 Leadership Profile
Driven by a passion for science-related nuances and his commendable work-ethic, Raynul is the perfect person to fill in the role as the President of this session's Science Club. A natural workaholic, he is sure to not only lead the club forward with his individual brilliance and charisma but also motivate others around him to be the best version of themselves as well. Furthermore, his jolly nature will enable newer club members to easily come out of their comfort zones and feel right at home. Raynul's extensive experience in working at leadership positions and his exciting visions for this club will without a doubt make this session a vividly memorable one.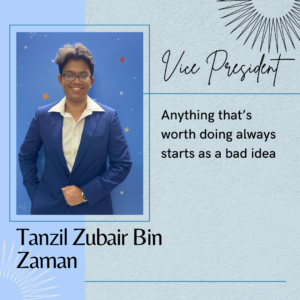 The second man behind the scenes working towards bringing success to this whole science club project. Introducing our amazing Vice President Tanzil Zubair Bin Zaman! On the surface, Tanzil is a guy with a solid personality and one of the biggest brains you will come across from our batch. Under the surface comes gold, a mad programmer with mad skillz and a knack for learning everything he can possibly learn and master it to the best of his capabilities. A responsible, fun loving and lovely guy who will for sure make you feel at home right here in the Scholastica Science Club.
Ahnaf is one of a kind, not only is he smart, charming and intelligent, his sense of humor will make this session not only informative but also fun for the members. His amazing personality will make the time you spend with him memorable for any person lucky enough to meet him. He uses his library of skills at his disposable to ensure that no work is left undone and nothing is below perfection. We are delighted to introduce Ahnaf Islam as Member Secretary of the Science Club this session. P.S. He is also a goodkid 👍
Faiza is an intellectual and creative thinker, with her sensible and understanding personality, she is a great addition to the team. Her decisive and persistent nature speaks volumes in important club decisions. Faiza's diligent and reliable work ethic motivates other leaders to persevere to new heights. Delighted to introduce the Strategist of Scholastica Science Club, Faiza Mahzabeen.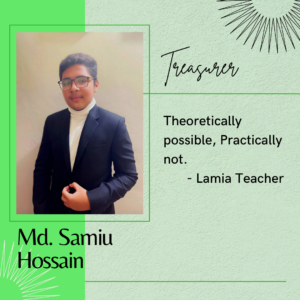 Samiu, a boy of sheer ambition, is proficient in handling responsibilities and giving consistent efforts. Not only is he determined, but also practical when it comes to his work. Samiu's curious and creative mind inspires others and we are definitely glad to have him with us. Introducing the treasurer of Science Club, Md Samiu Hossain
A young inspiration, Minnah strives for perfection. At her age she already brings a lot to the table with her amazing designs, workflow management and responsible nature. With Minnah at the wheels, the tech side of the club will be more than just 'managed'. We couldn't be happier to introduce her as the Technologist of the Science Club!