FIRST TERM CLUB NEWSLETTER AND CLUB RANKINGS! SRM 2020/21
Regardless of being caught in the midst of a global pandemic, student life at Scholastica Mirpur Campus has continued to be exhilarating. As classes resumed online, clubs were not far behind. Leaders faced new challenges headstrong as they began curating a completely new schedule for online activities and brainstormed ideas to keep members engaged.
This year the SLLC also had to consider multiple factors to determine the top clubs of the session. Their observations including but not limited to student leaders' commitment and engagement, organization and continuous progress of clubs, attendance, club projects, contributions, online presence, and of course their activity on the club website. The SLLC would proudly like to announce the club rankings for 2020! Congratulations to our top 5 clubs this year: Maths Club, Community Service Club, Scholastica Symphonies, Square One, and the Stallions!
Club Rankings for 2020!
Maths club
Community Service club
Music club
Dance club
Magazine club
Programming club
Debate club
Science club
IR club
Drama club
SYEEF club
Photography club
Spoken Word club
Scout club
So let's find out what our clubs have been up to these days!
Maths Club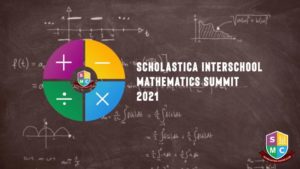 Scholastica's Maths Club has been greatly active this academic session. Members were introduced to interesting mathematical concepts such as magic squares, Fibonacci numbers, Handshske problems, geometric connections and even multiple variable problems. The club has hosted numerous monthly online olympiads, and have brought together and formed teams consisting of the best performers from their monthly olympiads to participate in the ICMCB School vs School Maths Competition on the 28th of November, 2020.
Moreover, Maths Club has also conducted a guest-speaker session that was done by Dr. Syed Ridwanur Rahman who discussed the future prospects of different subjects and how the country's young minds can contribute to our community in the future.
The former Vice President of the club had also taken a session to discuss the importance of extracurricular activities as well, alongside talking about what kind of ECAs they should pursue, how they can improve their ECAs and where can they get information regarding such opportunities.
They are currently hosting SIMS 2021!
Community Service Club
Scholastica Community Service club has been an actively engaging club that has participated in various activities. Starting from multiple campaigns to numerous competitions, the club has achieved some commendable goals.
Some of the campaigns include raising awareness regarding Covid-19, a mental health awareness campaign that also consisted of a webinar with a clinical psychologist, Miss Ishrat Shermin in honor of World Mental Health Day as well as campaigning to combat racism against indigenous groups in Bangladesh. Community Service club has also emerged as the club having the most active online presence this year!
The Scholastica Community Service club has also successfully launched an online dance competition in collaboration with the Dance Club. They have successfully partnered with NGO Ahsania Mission for the event, donating all proceeds to help the victims of COVID-19.
Magazine Club
The Magazine Club (The Stallions) was re-established after a year in September of this academic year.
The club has made 4 publications since September; receiving an incredible response from the readers. Moreover, their highest viewed article was read by 222 people, with an average of 80 reads for other articles. They have also gained a considerable amount of subscribers in their first stage of operation, and are expected to outgrow this number.
The Stallion has also established its own independent website that was curated by the club's technologist, Faiyaz Hossain Raj. The club will be continuing with the publications after winter vacation comes to an end.
Music Club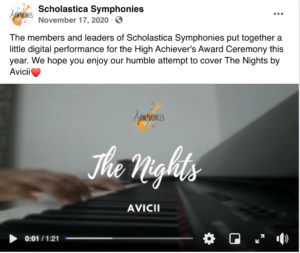 Scholastica's Music Club this year has partaken in numerous number of events. Starting from hosting a digital performance for the High Achievers' Ceremony to covering a duet song in honour of World Mental Health Day on the 10th of October, 2020, they have left no stones unturned to be eminently engaging and active. Moreover, The club has also gone ahead to successfully do a chorus performance on Teacher's Day on "Try Everything", a song originally sung by the renowned music artist Shakira.
The contributions do not end there. Music Club is currently hosting a mini club competition called, "Voice!" where members perform and send videos of their performances to engage in a healthy competition to further practice and boost their skills, having fun alongside.
Scholastica's Music Club is working for the school's annual drama as well. Song selection for the drama are complete and the music team will soon start when the rehearsals officially begin.
Dance Club
Scholastica's Dance Club successfully hosted its first online inter-school dance competition in Bangladesh: SIDC 2020 which was collaborated with the Community service club. Club members were fully involved in the organizing committee and as competitors. Simultaneously, the club also performed in the graduation ceremony as well teacher's day event.
The club also went on to execute its second project, "Square one mini competition", which required members to make a dance cover on their own choice of genre and style. Members are currently preparing for annual drama and practice their skills through the weekly dance classes that are taken by the school's dance instructor.
Besides, their second project is ongoing, where dancers are challenged to get out of their comfort zone and perform in a genre they are not an expert in. We are beyond excited to see what the members come up with through this project!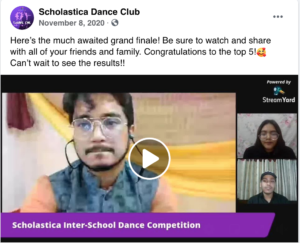 Drama Club
This year, the Drama Club has successfully helped students express their talents, by contributing to various events online including helping them to prepare for Virtual Annual Drama, during the pandemic. Students have also been given assignments to give them the platform to create something of their own, using their own ideas and knowledge about theatre. Showcasing their ideas online has given them the chance to use their creativity, to let them know where there is room to improve, and what they are truly capable of. We surely hope to bring about innovative ideas and showcase them in the various events that will be taking place in the near future.
The Scholastica Photography and Media club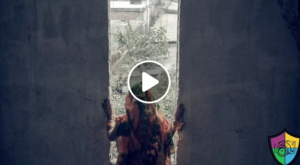 The Scholastica Photography and Media club has collaborated with several clubs such as the Community Service club on gender-based Violence and the Science club on their robotics course. We have also edited videos and promos for events such as the graduation day video, for teachers' day etc. We have also been collaborating with the Bangladesh college Photography association and are currently working to launch our event celebrating 50 years of independence.
Scout Club
The very word "Scout" gives off a sense of outdoor activity and adventure. Previously, the young scouts of our school had participated in camps,formed patrols and continued to plan for further exciting adventures but due to the unfortunate pandemic, they couldn't go forward with their plans. Although scouting mostly involves outdoor activities,it also involves theories essential for camping and surviving in the wilderness like first aid, map reading,navigation etc. They are not letting the pandemic from holding them back as they are eager to learn and use this time to develop skills for their next adventure!
Scholastica Programming Club
This year Scholastica Programming Club has also been incredibly busy. Starting from the introduction to basic programming concepts through Python, they have discussed and implemented common programming algorithms, namely: Bubble Sort, Binary
Search, Prime Check, Sum and Logarithms. They have introduced members to basic algorithm design to solve various problems via multiple
practice sessions. Also Hosting an Intra-Club Programming Olympiad at the end of the term for members to test, hone and showcase their newly learned skills. Over the course of this term, members have gained the skills necessary for the upcoming, more complex learning projects such as game development and robotics.
This term, members are currently brainstorming ideas for their upcoming flagship event: Scholastica Tech Fest
Science Club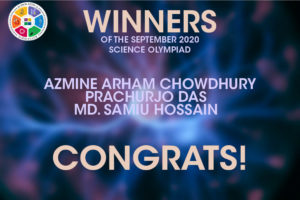 Scholastica Science Club has so far completed a workshop on Robotics, had monthly Olympiad and been preparing for the upcoming Scholastica Science Carnival 2021
Scholastica Young Entrepreneurs' and Economists' Forum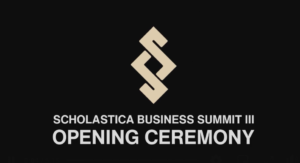 SYEEF has discussed numerous topics and projects for online sessions this year including Discussing Marketing Strategies, Mock Business Summits, Business Planning, The Stock Exchange. They also conducted monthly competitions: Business Olympiad, Economics Olympiad, SYEEF Gazette
They are currently organizing SBS III in 2021!
Scholastica Debating Society
This year they have organized a Interschool debate tournament within our school members, worked on a Project work on speaker roles down by club members, conducted Individual assignment to club members about global economics and politics. SDS has also participated in several tournaments. Example Fempowerment, BDC Pre Worlds, DSDC Coherence etc. There have been sessions on arguments and rebuttals, economics and philosophy and framing and morality
International Relations Club
The IR club has definitely kept themselves busy. They have introduced basic international conflicts to the members such as Syria, and Mexican drug war. As it was an engaging course the students gave their valuable inputs. They then introduced Moot as its a new branch, had Amitabh Karmaker as our instructor for this course. Then they did UN Day where a video was shown and a quiz was given during homeroom for each class. They also introduced Model United Nations to our members, hence, by integrating Halloween and MUN they did a Salem Witch Trials session as well.
Spoken Word Club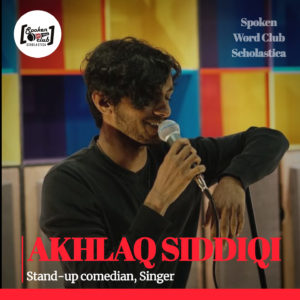 This session was the third running year of Spoken Word Club Scholastica. This year we saw an influx of new and passionate members who have been active members of the club all year round. After shifting to online sessions, members were able to express themselves through spoken word during interactive and informative sessions in the comfort of their homes.
As we can also see, club sessions in Scholastica Mirpur Campus this year have been nothing but promising. We hope to see the same dedication and vigour for the upcoming session!