Spoken Word Club – 2022/23 Leadership Profile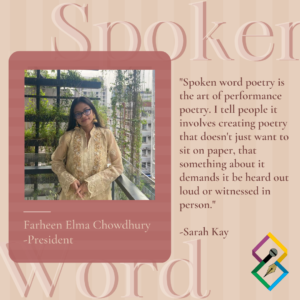 Farheen Elma Chowdhury, is a club leader who has always been passionate, persistent and determined about the tasks at hand, and who has earned experience through her qualities as a leader. Her approach to reaching goals with proper communication and coordination is admirable, and with her lessons learns from previous sessions, we hope to reach great highs in the session ahead. We present to you the President of the Spoken Word Club, Farheen Elma Chowdhury!
Determined and hard-working, Afra is an individual perfect for the role of VP. With her excellent communication, decision-making, problem-solving skills and amiable nature, she is sure to take SPOKEN WORD CLUB to new heights. She is also very goal-oriented and makes a great advisor.
Enthusiastic and charming, Samiu is a steadfast and sharp leader who never hesitates to take any decision regardless of the challenges that come with it. With the help of his undeniably brilliant communication skills, he always makes sure everyone has an equal opportunity to express their opinion. Presenting to you, the Member Secretary of this club, Samiu Hossain!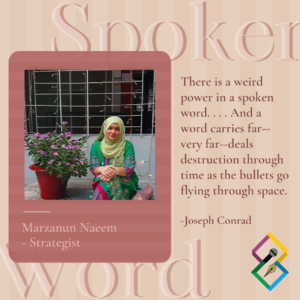 A critical thinker, Marzanun, never fails to amaze everyone with her work ethic and talent in composing amazing works of literature. Her skills in communication and planning are sure to make this year successful and memorable. Alongside that, she has an innovative and analytical mindset and shows interest in the field of Spoken Word. Proudly introducing our talented strategist, Marzanun Naeem.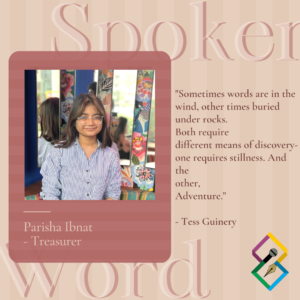 A patient learner who never fails to communicate with members and leaders alike, we would like to welcome our treasurer, Parisha Ibnat! Her responsible nature and skills in management and problem-solving are qualities we always look for in a treasurer. Her previous experience as a leader in this club will truly contribute to further developments in this session!
"Swagata, a bold and confident leader, never fails to execute a task with utmost proficiency. Kind and compassionate at heart, she is punctual and responsible about her work. She does not fear to take risks for the greater good, and we need such a critical thinker with us.
Gladly Introducing the Technologist of this club, Swagata Bhowmik Roy."