SYEEF 2021-22 Leadership Profile

We proudly introduce our President, Aryana Anisha Mahmud! Bold, brilliant, and incredibly driven — she has the business acumen and leadership capabilities to take SYEEF to even greater heights. We are absolutely delighted to have her with us!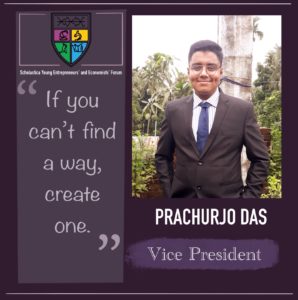 Here's our wonderful Vice President, Prachurjo Das! Our very own former strategist brings unwavering commitment to the club as he takes on a new role this year. His sincerity and persistence make sure he excels in whatever he aims for, and we can't wait to see what he has in store for us!
Presenting to you, one of the most responsible and orderly people you'll ever come across! It is difficult to find someone as dependable as our Member Secretary, Ayesha Aleena Sayeed. Her diligence and consistency really come in handy when it comes to completing tasks with perfection. We are thrilled to have her in our team!
Introducing our fantastic Treasurer, Promi Tahsin Mia! An independent and hardworking individual, she will make certain that every concept and objective she develops is achieved flawlessly. Promi's strong determination and enthusiasm will ensure that this club is the one for you!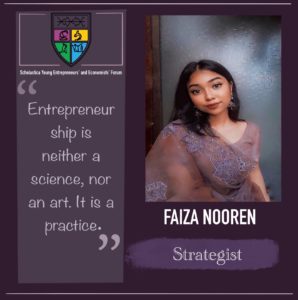 Next up is one of the brightest minds you will ever come across. Introducing to you our very own strategist, Faiza Nooren Suhita. Creative and ambitious, Faiza never fails to put up her best work. Her patience and charisma are what make her a valuable asset to SYEEF. We are excited to see what she has planned for us this year!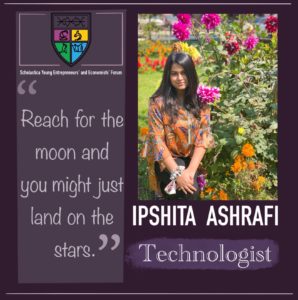 Presenting our talented Technologist, Ipshita Ashrafi Hoque! Her enthusiasm and dedication towards the club are truly praiseworthy. When it comes to any and all things tech, she will have the job done expertly. With a passion for business and proficient digital media skills, she is definitely an asset to our team!