Science Club – 2021/22 Leadership Profile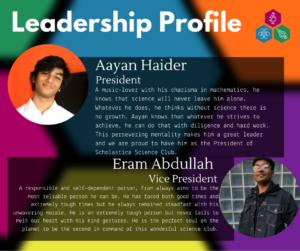 Aayan Haider – President
A music-lover with his charisma in mathematics, he knows that science will never leave him alone. Whatever he does, he thinks without science there is no growth. Aayan knows that whatever he strives to achieve, he can do that with diligence and hard work. This persevering mentality makes him a great leader and we are proud to have him as the President of Scholastica Science Club.
Eram Abdullah – Vice President
A responsible and self-dependent person, Eram always aims to be the most reliable person he can be. He has faced both good times and extremely tough times but he always remained steadfast with his unwavering morale. He is an extremely tough person but never fails to melt our heart with his kind gestures. He is the perfect soul on the planet to be the second in command of this wonderful science club.
Fardeen Chowdhury – Member Secretary
One of the most responsible person, Science Club is in safe hands under his watch. Acting as the Member Secretary for this session, he is passionate and determined to lead the club towards success. His positive attitude towards every work and perseverance to thrive under any given circumstance are one of the many great things that describes him as a leader.
Ajwad Jayafari – Strategist
He will not only impress you with his sweet and sharp smile but also with his honest nature. He says everything from his heart with no lies involved and his words are 100% accurate with no flaws. Ajwad, a knowledgeable person who never stops learning, has tons of ideas stored in his billion dollar mind and so all the members of science club are excited to witness some mind blowing ideas from him.
Taskin Kabir Rodela – Treasurer
An unknown but sublimely gifted artist with her creative instinct, she believes she can conquer this world with her works. Rodela has always surprised us with her artistic thought and she is an asset to our club. Her remarks and her wit has caused many no(s) to turn into yes(s). With her in the team, we will be able to achieve our goals and more.
Faiza Murtaza – Technologist
These few words are not enough to describe this beautiful person. Her designs are as pretty and aesthetic as she is. Faiza is extremely friendly and warm hearted for which everyone loves her.Her sarcasm and criticisms have always benefited us in the best way. We are grateful to say that she is a source of happiness and peace in our club.