Environmental Club- 2022/23 Leadership profile
Introducing our beloved president, none other than Sunehra Samin Chowdhury! Not only is she incredibly resourceful, but she is also as sweet as they come. Her determination and dedication to the things she is passionate about are inspiring. And most importantly, she gets things done. Let's give it up for the president!
Here's what she has to say: Having been a part of the leaderboard in the last session has enabled me to witness just how much we can do as a team of activists. It's high time we give back to Mother nature the love and nurture it has given us, we will make a small change if not a significant one. Alongside my fellow leaders and driven members, we stand as change-makers for a better future for our home.
Promi Tahsin Mia is an extraordinary individual who is passionate about the environment and comprehends the need for protecting it at all costs. She possesses a clear vision, is courageous as well as has integrity, honesty, humility, and a clear focus. She is a strategic planner and believes in teamwork. She has a permissible ability to Make Difficult Decisions and take control of any situation. Promi is truly fitting for the role of Vice President!
Here's what she has to say: What you do makes a difference and you have to decide what kind of difference you want to make. So do something today that your future self will thank you for. Here's to being mindful of the energy we give. Here's to recognising that when it comes to looking ahead toward the future, we can start small~
We're all familiar with Naila Tasnin, who is known for her mesmerising presence and soothing voice. She invests her heart and soul into whatever she does. Her hard work and determination pay off in the best of all she accomplishes. We are ecstatic to have her as our club's member secretary.
Here's what she's got to say: In the past year as a member, I have had the opportunity to learn more about the environmental dangers we are prone to. As a leader, I aspire to spread awareness about all of the risks to the environment as well as work with leaders and members alike to find solutions that we can achieve as young adults.
Samiha Shayeera Hasan is one known for her humour and determination towards her work, there's never a dull moment with her. She has the capability to come up with a feasible and practical solution given any circumstance and that's what makes her an amazing strategist for the Environmental club!
Here's what she has to say: The Environmental Club creates a platform for young activists and provides them with numerous opportunities to make changes in the environment. I look forward to working alongside all the members to take significant steps towards saving our home, Earth.
A strong-headed individual, Ahnaf is capable of working under a massive amount of stress efficiently. His dedication to his work inspires many. Ahnaf is a confident and kind individual who never fails to make others smile. We are thrilled to have him as our Treasurer this session!
Here's what he's got to say: The Environmental Club is an awesome place for curious beings. This Club makes learning about the Environment both fun and easy. Important problems, such as Global Warming and its solutions are discussed, raising awareness about the problems. As a club leader, I promise to spread awareness about the problems which can not be ignored anymore, such as Sea-Level rise and many more. I believe that " With great power comes Great Responsibility" therefore I will fulfil any duties or any tasks that I am given.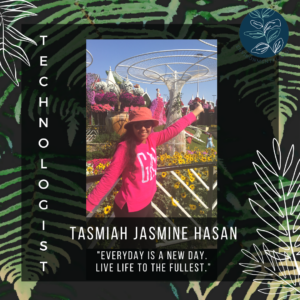 Tasmiah is a kind and very helpful person. She is always there when she is needed the most. Tasmiah is a talented individual who will never fail others with her ability to think quickly of solutions in critical moments. She is hardworking and that makes her the perfect Technologist for the Environmental Club.
Here's what she has to say: The environment is our home. It is our duty to protect, save and take care of our homes at all costs. The environment supports numerous life on this earth and provides all living things with nourishment, protection, and shelter. The environment and mother nature has given us so much. It is our time to give something back to the environment, and this is where our environmental club comes into the picture.