SRU Drama and Mime club – 2022/23 Leadership Profile
PRESENTING THE CLUB LEADERS OF THE SRU DRAMA AND MIME CLUB.
PRESIDENT – IRFAN IBN KARIM
It is an honour to be able to be the president of such a highly esteemed club such as the Drama club.
"The theatre infects the audience with its noble ecstasy." – Konstantin Stanislavski
I am eagerly waiting for the session to start to be able to get together and mesmerize our audience with outstanding performances. Hoping for a great year.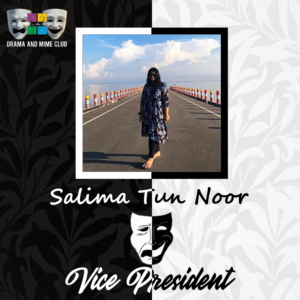 VICE-PRESIDENT – SALIMA TUN NOOR
Hello everyone! It is my pleasure to be the Vice-president of Scholastica's one of the most loved clubs. Hopefully, we all will have a wonderful year in this club. Time to create magic.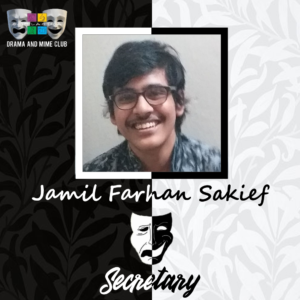 SECRETARY – JAMIL FARHAN SAKIEF
They say all the world's a stage, and I'm playing the Secretary for the club. Expecting to meet several Anthony Hopkins, Tom Hanks and Marlon Brandos on stage this year.
And here's a random quote from American Psycho for you which has nothing to do with this statement and everything to do with me rewatching the movies while writing this.
"I simply am not there."
STRATEGIST – PROGGA PARMITA RUPKOTHA
The drama club has always been a place laced with elements of fun and learning, so regardless to say, I am looking forward to being a part of this club as an eb member this session.
TREASURER – MASHRUR MAHTAB
HI GUYS. DRAMA IS EPIC. YES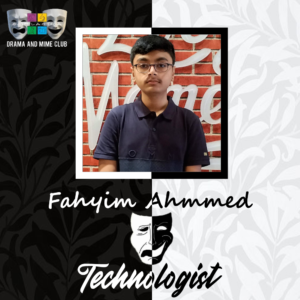 TECHNOLOGIST – FAHYIM AHMMED
Hi guys, I am this year's technologist for the Scholastica Drama and Mime Club. As you all know, what a technologist does in a club is nothing less than what a film editor does in a real movie and I hope I will be a Tarantino for the club, not to exaggerate, but that is exactly what I'm told to do.